Columbus Pool Liner Replacement Services
Pool Liner Installation for your Columbus Pool
Sun exposure, everyday use, and cleaning chemicals are known to fade and wear down the vinyl liner in your Columbus inground pool. If the liner in your pool has ripped or is starting to wrinkle, you may require pool liner installation.
For over a decade, homeowners have relied on the experts at S&R Pools for pool liner installation in Columbus, NJ and the surrounding areas. No matter what the shape or size of your swimming pool, our experienced pool liner installers can revitalize the look of your backyard oasis. Contact us today for a FREE quote.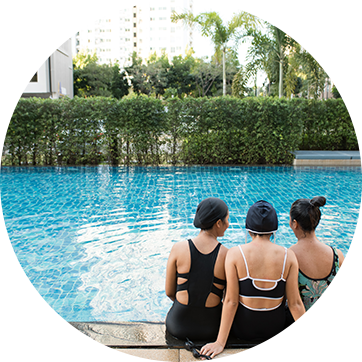 Why Choose S&R Pools For Pool Liner Replacement in Eastampton
We have over 10 years of experience
We only install high-quality, durable pool liners
We do our best to work with your needs, budget, and timeline
We offer custom pool liners
We provide customers with free estimates
Pool Liner Replacement Services In Columbus 
In order to look their best and avoid costly repairs, swimming pools require regular maintenance and care. However, even when following the best maintenance regime, your pool liner is likely to experience wear and tear from everyday use, as well as exposure to the sun and chemicals over time. When your pool liner is faded or damaged, replacing it will not only enhance the beauty of your swimming pool, it will also provide a layer of protection to reduce the risk of any cracking, leaking, and tearing. 
Since 2009, S&R Pools has been the premier provider of pool liner installation in Columbus and the surrounding area. Our team is committed to ensuring that homeowners get the most of their swimming pool. As part of that commitment, we have helped restore numerous pools throughout the great state of New Jersey. Specializing in pool liner designs and installation, our experts are here to make sure that your pool is functional, beautiful, and back to normal as soon as possible. Contact our pool liner replacement company to request a free estimate for your pool!
High-Quality Pool Liners in NJ
We know that when homeowners have damaged pool lining to deal with, they want to fix the issue as soon as possible so that their family can enjoy the swimming pool once again. At S&R Pools, we carry a wide selection of high-quality vinyl pool liners from some of the leading manufacturers that are designed to extend the lifetime and visual aesthetic of your pool. Our pool experts will be happy to take a look at your pool and recommend which replacement liner would be best for your pool.
Are You Due for a Pool Liner Replacement?
Wrinkling

- Pool liner that is wrinkling in some areas is typically due to improper installation, low-quality vinyl material, or it is caused by chemical damage. Wrinkles can lead to tearing and ripping, which will lead to leaking. 

Fading -

Pool liners naturally fade over time as they age and are exposed to chemicals and UV rays from the sun. As the pool liner fades, the vinyl it's made from will become hard and brittle, making it easy for cracks and leaks to form.

Cracking & Tearing

- Much like fading, cracking and tearing can also be caused by UV exposure and misjudged chemical use. Even the strongest pool liner materials are no match for improper care, so if you see cracking and tearing, get a pool liner replacement.

Water Loss

- If you notice that your pool is experiencing significant water loss, there could be one or multiple leaks in your pool lining. Leaks significantly accelerate the rate of water loss, so it's important to have your pool liner replaced as soon as possible. 
Contact S&R Pools for a Free Pool Liner Quote
If you have noticed that the vinyl lining in your swimming pool is faded or damaged to some extent, contacting S&R Pools for a professional pool lining replacement sooner rather than later will help you save money and get more enjoyment out of your pool. Contact us today to request a hassle-free project estimate for your Columbus pool or to ask any questions that you might have about our pool liner replacement services. 
"*" indicates required fields