Trust S&R Pools for All of Your Pool Cover Installation Needs
There is nothing more enjoyable on a hot day than spending some time in your swimming pool. However, when the temperatures start to drop, and it's time to close your pool for the season, you must have a durable pool cover to keep it protected. Pool covers help keep leaves and other debris from getting in your pool and ensure that less work has to be done when the time comes to open it back up.
If you don't have a cover for your swimming pool or your existing one seems to be on its last leg, S&R Pools can help. We offer reliable swimming pool cover installation in Columbus, NJ, and the surrounding area. Contact us to learn more about the swimming pool covers we offer and receive a free estimate.
Our pool cover installation services have helped countless pool owners in Greater Columbus, NJ, including Country Walk and Georgetown. We strive to provide quick and efficient installations to ensure your pool is protected throughout the offseason.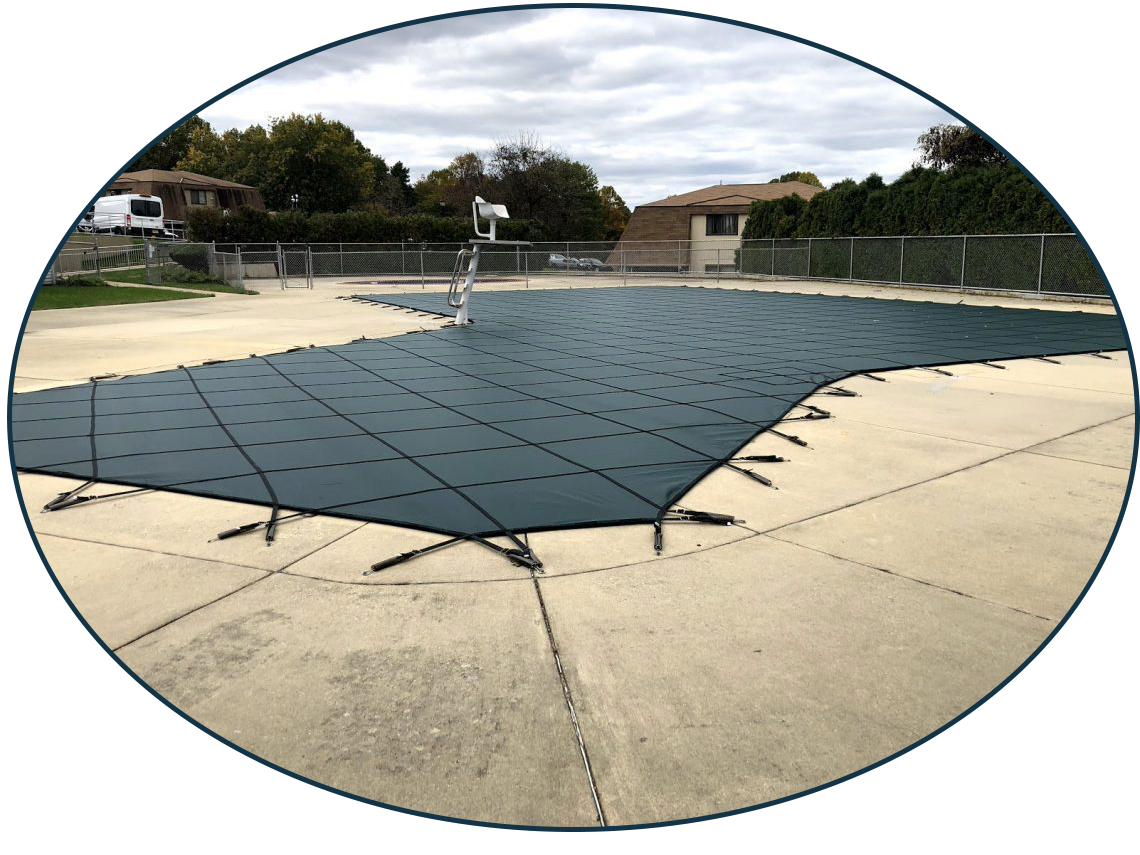 Why Choose S&R Pools For Pool Cover Installation in Columbus, NJ
Now that you know that you want and need a new pool cover, you want installers in Columbus, NJ, that can handle the job. Since 2009, our team has provided our customers with unparalleled customer service and high-quality pool cover and pool liner installations. Here are some of the reasons why you should consider choosing S&R Pools:
We have years of experience providing pool cover installation services
We offer a variety of high-quality pool covers
We can find a cover for any sized swimming pool
We work to ensure the utmost customer satisfaction
We provide free estimates for pool cover installations
Pool Cover Replacement in Columbus, NJ
A swimming pool is an excellent investment for your home, providing hours of non-stop enjoyment for you and your family. In fact, pools are great for winding down after a long workday or after finishing up weekend errands. Similarly, poolside areas are perfect for reading, relaxing, or taking in the sunshine. With this in mind, it is important to ensure your investment is maintained and protected.
If you have a pool cover already installed, it may be time to inspect it to ensure its structural integrity remains intact. If you have noticed that it's seen better days, our pool cover replacement services for Columbus, NJ, Country Walk, and Georgetown can be just what you need to protect your pool for the long haul.
With pool covers from S&R Pools, you can find the solutions you need to keep your swimming space protected and maintained throughout the year. We offer a wide selection of pool safety covers, including solid pool covers and mesh pool covers. No matter the shape or size of your swimming pool, our experts can help you choose a quality, durable pool cover that will keep your pool protected and maintained.
Experience These Benefits With Pool Safety Cover Installations in Columbus, NJ
Protecting your investment remains one of the most important parts of your pool maintenance routine. Getting a durable pool safety cover helps you protect your pool from the elements and potential safety hazards. Our Columbus, NJ-based pool cover installers can help you ensure your pool remains ready for the busy summer months. A properly installed and maintained pool cover can benefit your setup by:
Reducing the risk of accidental drowning and other accidents
Preventing debris in your pool and reducing time spent on maintenance
Decreasing the need for chemical adjustments
Making opening your pool easier in the spring
Easing minds knowing everything is safe and secure around your pool
Extending the lifetime of your pool equipment
Interested in learning more about our pool cover installations in Columbus, NJ? Contact S&R Pools to get your free estimate today!