Specializing in Liner Replacements and Safety Covers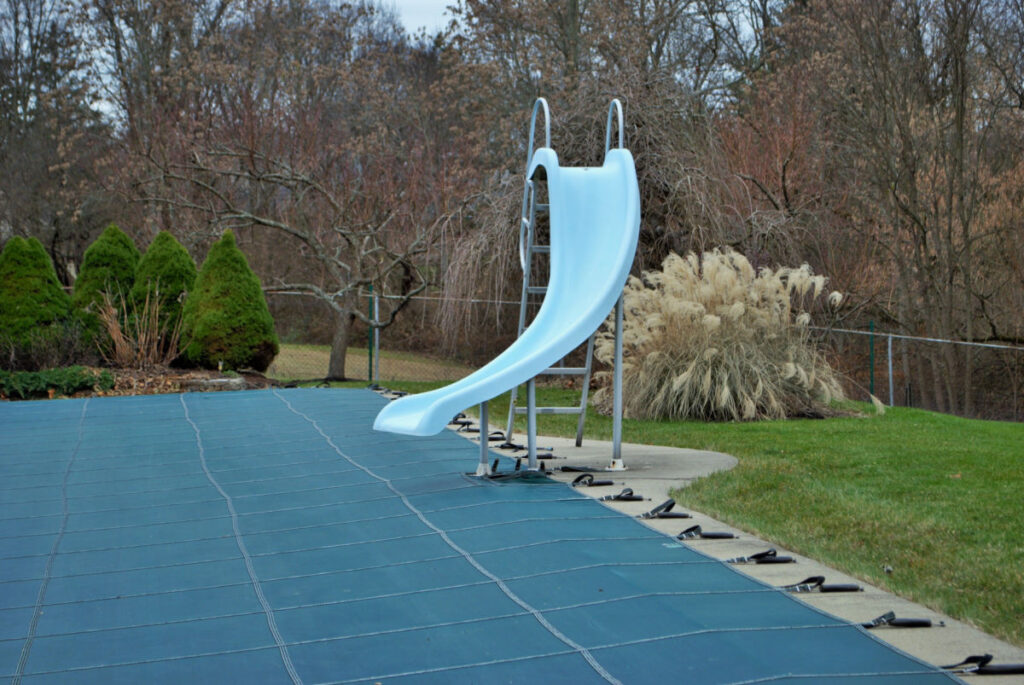 Why Now Is the Best Time to Order Your Pool Cover
Although we never want the nice warm weather to go away, it eventually does, and in comes the harsh winter for your pool to fight with. Pool safety covers provide an unmatched layer of protection, making them a necessary investment for all pool owners. But you don't have to wait until fall arrives to secure your ideal pool cover. Instead, you can start the process now by ordering your pool cover and getting it installed at the end of the season by S&R Pools. You'll avoid dangerous seasonal elements, and your pool will reward you with a long lifespan and years of fun for you and your family.

Doing it Now Is Better Than Doing it Later
Why buy your pool cover today? It's simple: do what you can now to avoid missing out later! It's easy to forget when the time comes to prioritize your pool's protection. Most of us hardly want to let go of the warm weather, but the tides can quickly change, exposing your pool to harmful elements. Additionally, pool covers keep your kids and pets safe if they want to try and sneak one or two more swims in or forget that the pool is closed. So don't let the weather sneak up on you — get a pool cover today so you're ready to have it installed when you need it most.
Choosing the Right Pool Cover
Choosing the right pool cover is critical; it all depends on your family situation, needs, and a few other personal factors. Options like winter covers are great for reducing algae, sunlight, dirt, and debris, but they aren't nearly as strong as safety covers. Getting a safety cover gives you access to levels of protection that stand above all else while providing an aesthetically pleasing benefit that'll stand out in the dull and dry winter. Choose the right cover for your environment; companies like S&R Pools can help you find the right pool cover with an extensive selection of options that cover all homeowner needs.
When Should You Get Your Pool Cover Installed?
When you order a new pool cover, if timing allows, it is a good idea to get the cover put on the pool before the time you go to close the pool to see if everything was made the way it was ordered.  You can have the cover installed early and removed, folded, and put away for storage so it will be ready for when you go to close the pool.  If you are not able to get the cover installed before time to close, the next best option is to wait until when you close the pool and coordinate the pool cover install with the pool closing.  For most homeowners, this will be around September and October, as brisk fall nights replace the warm summer weather. Contact an experienced team of pool cover installers to ensure a reliable cover installation.
Turn to S&R Pools for Quality Pool Covers and Pair Them With an Installation From Our Fabulous Team
Finding the right pool covers makes a world of difference, and you can pair it with a quality installation from the team at S&R Pools. Our leading NJ pool covers protect your pool from the winter weather and last anywhere from 3-7 years, giving you many seasons worth of protection that's thoroughly unmatched. 
Select from different pool covers like our Safety Solid XLS, which ensures superior protection against algae by blocking out all sunlight into your pool while keeping leaves and other debris away. This pool cover may be extra strong, but it comes in an extra light package, weighing in at 22% lighter than typical solid covers.
Options like our SmartMesh provide similar levels of protection with 40-micron filtration that's comparable to solid covers with 40% less weight. We also house options like our Duramesh II with budget-friendly protection that still does a wonderful job at keeping your pool out of harm's way and keeping leaves and debris away. 
Protection for your pool is a must, and S&R Pools can make it happen. Check out our fine selection of pool equipment today and get your expert pool cover installation in Burlington, NJ, and the surrounding areas.