Specializing in Liner Replacements and Safety Covers
What is the best liner pattern for my pool?
When the time comes to choose a replacement pool liner there are hundreds of choices for you, and making the correct color choice is a difficult decision.  You need to make sure that it goes well with your backyard, and with your tastes, so where do we start?
Light Vs. Dark
First thing to ask yourself is, do you want a dark liner or a light liner?  While it is true, a dark liner will retain more of the suns heat, if you are in an area of mostly shade, the darkness of the liner will not help, and the color of the liner might be too dark.  What is the feel that you are looking to achieve with your pool?  Darker liners are going to give you a deep look to the water, similar to a deep ocean.  While a light colored liner will give you the feel of a tropical oasis.
Some people think that a darker liner will not show the fading over time as much as a light liner will.  This is not an accurate assumption, a darker liner will still fade, and since liners do not fade uniformly you will have some areas that are less faded then others.  If liner fading is an issue that you want to avoid, you should look into our AquaMax liners.  They have a top coat on them that helps to protect the liner from UV damage and from chemical damage.
Dark liners hide the dirt.  This could be a pro, if you are trying to have company and you don't have the time to vacuum the pool, but it is also a con, when you are trying to vacuum the pool, you want to be able to see the dirt.
Should I choose a tile border, or a liner without a boarder?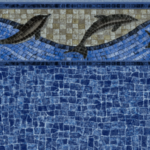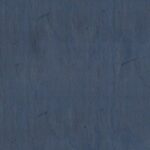 After you have made your choice between a light color and a dark color, the next choice is between a liner with a tile, as shown on the left; or a liner without a tile border, as shown on the right.  The most popular choice is to have a tile boarder around the top of the liner, but liners without borders are gaining popularity. A Tile border adds another aspect of design and allows you to add more color into the liner.  If you are trying to draw out the color of your house, or the color of your pool deck, coping or furniture, a tile will allow you to have more color in the liner and better match your surroundings.   A liner without a border can look more sophisticated, and can give your vinyl liner pool the look and feel of a gunite pool.  All of our liner patterns can be installed without the Tile border around the top.  If you need a liner brochure to help you select the right pattern please don't hesitate to reach out to us.  This choice is completely a matter of opinion, so take all advice with a grain of salt.  That being said, most people with liner pools choose liner patterns with a tile boarder around the top.  If you have aluminum coping (or white metal coping) a liner with a tile would be recommended.  Also if you have a pool with a fiberglass step it would be recommended to choose a liner pattern with a tile boarder.  If your pool has stone coping around it and have vinyl covered steps you could choose a all bottom pattern and your pool could really look like a gunite pool.  Please remember that this is your pool, so if you like the all bottom look, go with it, and enjoy that look that you created for your backyard.