Specializing in Liner Replacements and Safety Covers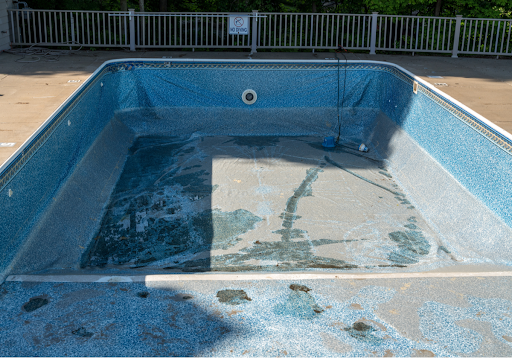 Should You Repair or Replace Your Pool Liner?
Pool liners are a huge part of having a beautiful backyard pool, but like all important products, caring for them is just as important as having them. That's why it's important to identify when it's the right time to repair or replace your pool liner. Most homeowners aren't always aware of how to address the wear and tear their vinyl pool liners can face, and fortunately, S&R Pools has over a decade of experience dealing with some of the toughest pool problems. 
So how do you know if a repair is sufficient or if you need to go a bit further and replace the liner? Our expert advice will outline some of the most common pool liner situations to help clarify what decisions are best for you.
How Long Do Liners Usually Last?
Your pool liner will typically last about 7-12 years, you can get the most out of your pool liner with effective maintenance and care. Some liners will need to be replaced sooner if there is some extreme circumstance, such as excessive groundwater, rips, tears, or chemical damage.  
When Should I Repair My Pool Liner?
Repairing your pool liner isn't a one-size-fits-all solution, but it does a great job of fixing specific wear and tear problems. Effective repairs usually require a professional, but there are a few handy tools you can use to effectively repair different parts of your liner, including:
Waterproof Tape

Vinyl Patch Kits

Peel and Stick
Remember that it doesn't make sense to waste your hard-earned money constantly repairing an older liner. Older liners that are going bad will likely need replacement in the near future, so consider saving money in the long run and giving yourself peace of mind with a replacement.
Small Tears
Small liner cracks or tears can usually be patched up by one of the above repair methods. Waterproof tape can be used for underwater damage and is clear so that it isn't noticeable on your pool. Peel and sticks are made especially for pools and created from the same vinyl material found in the liner, which helps it not fall off. 
Wrinkled Liner
Wrinkles are caused when the water levels sneak under the pool's surface, causing your liner to float up. The liner wrinkles as it settles back into place, and those wrinkles become the fabric of your liner. If your liner is still new, replacing the wrinkled liner might not be necessary.  You can lower the water level in the pool, and get the liner set back in the place where it is supposed to be, without causing more damage to the liner.  If your liner is too old, resetting is not an option, because your liner will not be able to handle the lowering and re-filling of the pool water. If you have had issues with your liner floating, getting a french drain installed around the pool might be necessary to direct water away from the pool area.  
Stains
Stains are especially common in pools, especially during spring, as organisms start to grow and flourish after the cold winter. In the past, a replacement was the only option to remove stains from your liners, but that isn't the case now. There are plenty of stain-removing pool chemicals available that work hard to get rid of rust stains and damage in and around your pool.  
When Should I Replace My Pool Liner?
Replacing your pool liner is necessary for more severe situations, and homeowners needing a replacement often get it due to large tears or leaks that render your pool useless. Age is a common reason for pool liner replacement, but it isn't the only one. Many homeowners keep their liners until it absolutely needs to be replaced. If these issues apply to your pool liner, consider getting a replacement ASAP, so you don't waste your time in a compromised pool.
My Pool Liner Is Faded
Looks do matter, and a faded liner is another common reason homeowners replace their liners. Fading is as inevitable as time, as the sun's UV rays take away from some of the brighter colors, and chemicals beat on the once beautiful liner pattern. While fading might not necessitate an immediate replacement, the only permanent solution is to change out your vinyl liner. Fading of liners over time will happen, but a good way to slow the effects from the suns UV rays is to get a pool cover installed in NJ or by your local installer to help avoid the sun's rays damaging your liner when not in use.
Leaking Pool Liner
If you notice that you're losing water in your pool, you might have a leaking pool liner. Due to age, accidental puncture, or wear and tear, your pool liner can start to leak. You can try a dye test to determine if there is a leak in the pool, and a pressure test might be done to rule out any problems with your pool plumbing.
Large Tears or Holes
While smiler tears can be fixed temporarily through tape and peel and sticks, larger tears and holes compromise the integrity of your pool. Vinyl patch kits work better for larger tears, but keep in mind that these problems weaken your liner, and it's only a matter of time before you'll need to have the liner replaced.
Is Your Pool Liner Giving You Trouble?
S&R Pools specializes in installing pool liners and safety covers for homeowners in and around South and Central New Jersey. We are experts at our craft, and your new pool liner or pool cover can be installed easily and efficiently and have you swimming in your pool in no time! Contact our specialists to schedule a pool liner installation or replacement today!